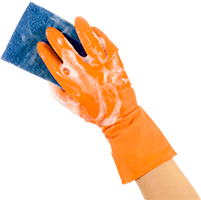 We have strong values and create save and healthy environment We undertake every aspect of our business ethically, honestly and with integrity.
INTEGRITY
We are committed to providing quality service to our clients and sustainable employment for our employees
COMMITMENT
We do our best to generate results that exceed expectations. We are always willing to go one step further than our competitors.
DETERMINATION
Our products and services are of the highest quality. We pride ourselves on being the very best!
EXCELLENCE
Commercial Cleaning Melbourne

Woodcroft cleans all commercial properties and offers great office cleaning services throughout Melbourne. With its experienced staff, high-quality materials and unique methods of use, Woodcroft offers the most exclusive services in commercial cleaning and makes workplaces much healthier. Disinfection and dust & dirt cleaning are special services of our company. If you are a business person and you want to work in a safe, healthy and clean place, the Woodcroft will surely be there for you. Transform your business spaces into liveable areas. Good cleaning companies can be hard to come by, but Woodcroft has been in the game for more than 30 years. We know how to make your office or property look great. Some of these properties include
Making a plan with our experts
Making use of the best-quality cleaning equipment
Identifying the area and cleaning it meticulously
Call Now!
Our Cleaning Services
Woodcroft Enterprises offer commercial cleaning services for all properties in Melbourne. If your office or commercial needs to be cleaned and effectively sanitised on a regular basis, call the experts at Woodcroft Enterprises to ensure the job is done right.
Woodcroft cleans offers great office cleaning services throughout Melbourne. With its experienced staff, high-quality materials and unique methods of uses, we will make your workplaces much healthier.
We are experts at taking the stress out of your move by focusing on cleaning your property. So that you can concentrate on setting things up for your new home. For us, bond cleaning in Melbourne means just one thing – to assist you to get your 100% bond money back from your landlord.
We are providing premier cleaning services to hotels and resorts since 1988. Customers today are increasingly informed, conscious and vocal about hygiene standards and the effects on their health. Combined with travel reviews and the increasing number of rating sites, hygiene standards are having a significant impact to the hospitality industry.
Within healthcare settings cleaning understandably plays a vital role in infection control. Our medical cleaning service provides the highest standard of medical cleaning in order to help your medical centre provide a high standard of care in a healthy and hygienic environment.
Woodcroft is a professional industrial cleaning service company in Melbourne. We are committed to exceeding expectations and combined with our happy customers, has established us as one of the most reputable industrial cleaning and maintenance company in Melbourne.
The Best Professional Cleaning Team in Melbourne
Get the service you ask for with Woodcroft Enterprises.
Rely on a company that is Aussie owned with a motivated, experienced team.
Experts in Commercial Maintenance and Cleaning Woodcroft offers dependable commercial cleaning services for your business or institution. Our outstanding commercial janitorial service provides you with reliable, well-trained and qualified commercial cleaning experts for all your needs.

100% Satisfaction Guarantee!
It can often be overwhelming living a busy life in Melbourne and more often than not, cleaning can be neglected. But what happens when your floors get dusty, and cobwebs start forming? Well, it's simple! You call us and book our cleaning service in Melbourne which is definitely the best out there.
At Woodcroft Enterprises, we are committed to giving you the best customer service with a 100% satisfaction guarantee. Our house cleaning professionals are available all over Melbourne, and they are not only certified but also insured, and background checked.
With us, you can go for a monthly, fortnightly, weekly or a one off cleaning service. Also, there are no hidden fees or contracts involved when you are working with us. So if you are not one bit happy about your current commercial cleaning service provider, give us a buzz and we will re-clean your house at extremely affordable rates.
You can rely on Woodcroft Enterprises to provide total facility care for your commercial or domestic property. We service enterprises within multiple industries including government, manufacturing, industrial, real estate and retail. Our property maintenance services in Melbourne are second to none with fantastic service.

The clean working environment can improve the health & wellbeing of your workplace. A healthy and clean workplace environment can improve morale and productivity of your employees. Content and happy workers are always inspired to do their jobs well. When employees are happy at work, they don't think about changing jobs. They stay loyal to the company where they are managed well. Professional cleaning can reduce employee turnover. Besides your employees, possible clients or investors sometimes pay a visit, too. The last thing you want is for them to be turned off by an unorganised, messy, and dirty work environment. Whether it is an industrial area or an office space, we ensure that flexible and efficient services on commercial cleaning in Melbourne are delivered to you.